Silver jewelry never fails to impress. Whether it's a silver-decked gemstone necklace or a designer 925 silver ring, one looks beautiful wearing these embellished pieces. Handmade silver jewelry has a market of its own. Girls go to lengths to find exquisite silver jewelry designs to slay at a wedding or party.
When we talk about sterling silver jewelry, you may guess a necklace, pendant, earrings, or rings. Well, there are silver accessories that stay in demand too. When you're dressing for a party, you may think it fit to wear a decorated Amethyst necklace or Blue Topaz earrings. It's a common choice. However, the rebel in you may choose to think differently.
You can pick silver chains, anklets, brooches, cufflinks, and bracelets. Yes, they make you look stunning equally. Let's talk more about handmade silver accessories that can help enhance your party look.
Silver Chains
If you're confused about what to wear at a party, we can help. Look beyond the obvious to find stunning silver options like a silver chain. Yes, you read that correctly. A silver chain can help you look beautiful the same way a necklace would. We are talking about the party look, so you don't need to go overboard styling yourself. All you need is a sterling silver chain to slay.
If you're a buyer, you may consider buying silver chains in bulk. They are in demand. While exploring wholesale silver jewelry options, you can pick these simple yet elegant pieces to decorate your jewelry store.
Brooches
You can wear a designer shirt to a party. And if you think that would not suffice, you can beautify it by adding a brooch. You can find a wide selection of gemstone-studded brooches at our store. We care to curate handmade silver jewelry pieces with the utmost attention. Find crystals like Citrine, Peridot, Garnet, and Rainbow Moonstone that make our brooches look like a piece of art.
Anklets
Do not underestimate the contribution of anklets in completing your party look. With a designer lehenga, you got to wear a pair of silver anklets. Silver jewelry is not limited to rings and earrings. You can find a trusted silver jewelry supplier to shop for anklets. If you're a wholesale buyer, the more, the merrier.
Cufflinks
If you're dressing for a formal gathering, you can shine bright in a shirt and trouser look. For that, you need to keep your style game on point. What better than a pair of cufflinks to do the magic. Yes, that's correct!
You can find gemstone cufflinks decked with crystals like Carnelian, Black Onyx, Malachite, Tiger Eye, and Lapis Lazuli at our store. As a retail jewelry store owner, you may pick these pieces to offer your customers a whole new range of silver accessories.
Bracelets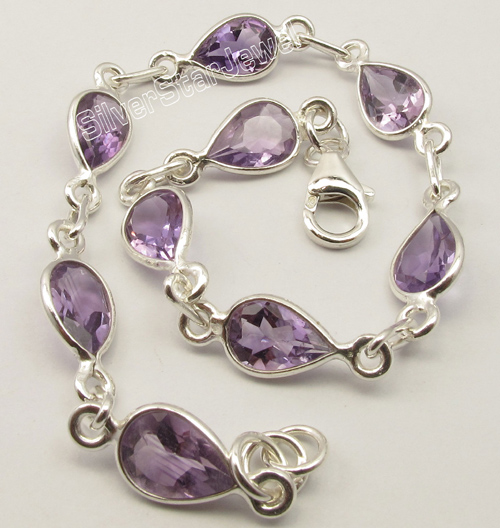 Women adore gemstone-studded bracelets for various reasons: they are stylish, elegant, and affordable. We can categorize bracelets under silver jewelry and silver accessory. You can find gemstones like Amethyst, Pearl, Peridot, Citrine, Rainbow Moonstone, Apatite, Blue Topaz, and Garnet decking the beauty of our bracelet collection.
These silver accessories can be a gamechanger for you. Not only do you set the trend wearing them, but you also bring home a priceless possession to cherish for years to come.