Silver is a beautiful metal that reflects tranquility, devotion, and an aura of goodness in the form of its brightness. However, some fantastic metals with high-end metal qualities are employed to create stunning jewelry designs. On the other hand, silver is the most refined, diverse, and eternal metal that has been utilized to make amazing jewelry ornaments for ancient times.
Silver is less expensive than other metals due to its abundance, but silver jewelry is attractive.
Silver is highly malleable and ductile in its pure form, and this type of silver is also fragile and is not suitable for making jewelry. That is why Sterling silver, a mixture of silver and other metals, was created to manufacture long-lasting, lustrous, and beautiful jewelry.
The following attributes make sterling silver best for designing jewelry:
1. Strength
Sterling silver is made by combining silver with other metals to form an alloy. Because of its high strength, this alloy is suitable for making earrings, pendants, necklaces, hefty bangles, and anklets. Silver jewelry manufacturers employ only Sterling silver to create unique accessories.
2. Durability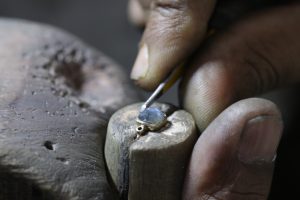 Jewelry made of sterling silver stands the test of time. You'll adore wearing brilliant silver jewelry that sparkles indefinitely. Yes, sterling silver is exceptionally durable, with a flawless luster and delicacy of texture, whereas fine silver is brittle. Give your loved one the gift of enduring beauty and elegance in the style of sterling silver jewelry.
3. Trendy Options
Silver is a soul metal that calms the mind and radiates alluring elegance. Sterling silver jewelry wholesale offers gorgeous jewelry designs in various styles, from rich to minimalist. These fashionable designs set you apart from the rest, and these designs are ideal for both formal and informal occasions.
4. Fabulous Collection
Because sterling silver is less expensive than other metals but more attractive. As a result, you can construct an impressive set of stunning earrings, a seamless bracelet, a rich necklace, and a charming pendant. You'll find a superb selection of sparkling jewelry at reasonable costs at silver jewelry manufacturers.
5. Maintenance-friendly
925/.925/STERLING signifies sterling silver grading, and these symbolize the most suitable form of silver jewelry. Always buy jewelry from 925 silver jewelry exporters. When silver is exposed to air, it is easily oxidized and tarnished. However, you can revive its charm by implicating simple solutions. Keeping your sterling silver jewelry in an airtight bag, using an anti-tarnish strip in your jewelry bag, and washing and polishing it can help preserve its grace and radiance forever.
6. Wear with Confidence
Sterling silver enables you to maintain your dignity and charisma. Unlike other metals, the sterling silver alloy does not induce allergic reactions. As a result, you can boldly and gracefully wear this magnificent jewelry for any event.
When it comes to wearing jewelry, never compromise on style and elegance. Always remain on top of the latest trends by wearing wonderful jewelry pieces from reputable silver jewelry wholesalers. Purchase authentic, long-lasting, and eternal brilliance.