A woman's heart has always belonged to jewelry when it comes to accessories and fashion. A classic and adaptable alternative among the many jewelry options available is sterling silver jewelry. Its timeless appeal comes from its ability to go well with both formal and casual ensembles, which is why women of all ages adore it. Let's explore the world of women's sterling silver jewelry and learn about the newest styles that are enticing shoppers.
The Sterling Silver's Allure
The amazing properties of sterling silver, which is made up of 7.5% additional metals and 92.5% pure silver, make it highly prized. It is ideal for daily wear since it is durable and has a dazzling shine. Women all throughout the world love sterling silver for the following reasons:
Classical Style
The timeless elegance of sterling silver jewelry goes well with everything, from casual denim to a stylish black dress. Because of its adaptability, it can go from day to night with ease.
Inexpensive Luxurious
Sterling silver, in contrast to some other precious metals, provides an inexpensive means of indulging in luxury without going over budget. It offers the grandeur of silver at a far lower price.
Non-allergic
A dream come true for people with delicate skin is sterling silver. Because it is hypoallergenic, anyone can use it, including those who are prone to skin irritations.
Let's now examine the most recent styles that are sweeping the sterling silver jewelry market for women.
Trend No. 1: Necklaces layered
A popular style of jewelry made of sterling silver these days is layered necklaces. Wearing several necklaces in different lengths to achieve a stylish, multifaceted look is the goal of this style. Whether you choose elegant bars, tiny pendants, or elaborate motifs, the secret is to mix and match to create a unique and fashionable look.
Trend 2: Earrings with Statements
Sterling silver statement earrings are a major fashion statement. These earrings, which range in style from huge hoops to elaborate chandeliers, lend a dash of glitz and drama to any ensemble. They're ideal for adding flair to a formal gown or upgrading a plain outfit.
Trend 3: Simple Rings
A popular style that is still going strong is minimalism, and it has reached the realm of rings. Simple minimalist rings made of sterling silver are elegant, subtle, and very stylish. These delicate rings provide a modern and fashionable style and are ideal for stacking or wearing alone.
Trend 4: Jewellery with birthstones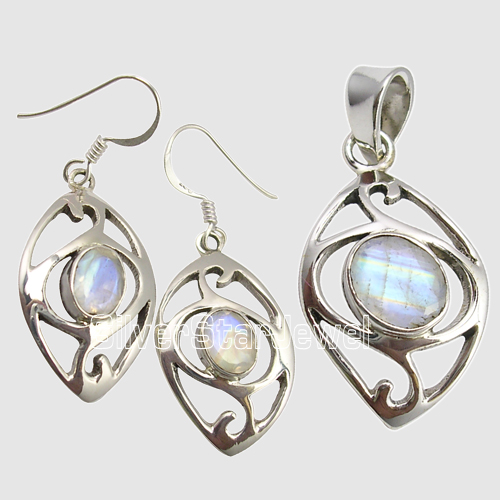 A noteworthy trend that lets women customize their accessories is birthstone jewelry. Birthstone necklaces, bracelets, and rings made of sterling silver are becoming more and more popular since they provide a personal touch and a splash of color. Wearing a birthstone, whether it be your own or a loved one's, personalizes your jewelry assortment.
Trend 5: Charms with Symbols
Symbolic charms in sterling silver jewelry have a special allure. They are perfect for self-expression and gifting because they frequently have deep meanings. These charms, which range from hearts and anchors to spiritual symbols, give your jewelry collection depth and meaning.
Trend 6: Modifiable Jewellery
The key to current fashion is versatility. Jewelry that can be worn in multiple ways, including necklaces that can be worn as bracelets or earrings, is becoming more and more fashionable. You can make the most of your jewelry collection and create a variety of looks with a single item thanks to these creative designs.
Conclusion
In conclusion, a wide variety of styles to fit every taste and occasion are available in women's sterling silver jewelry, which is continually evolving. For those who enjoy jewelry, its ageless charm, reasonable price, and hypoallergenic qualities make it a desirable option. Whatever your taste in jewelry—be it bold earrings, minimalist rings, or stacked necklaces—there are a plethora of options available in sterling silver that meet the ever-evolving demands of fashion.
Browse a variety of possibilities at Silver Star Jewels, a trustworthy wholesale sterling silver jewelry store online, if you're looking to experiment with these trends or add new items to your store collection. Accept the elegance and adaptability of sterling silver and let your jewelry to express your distinct sense of fashion and individuality.