Jewelry enhances a woman's appearance by making her feel fabulous on the inside. Only an ornament can complete your ensemble, no matter how well dressed you are. Since the dawn of human social civilization, ornaments and accessories have been popular. Some metals have been used as jewelry since antiquity. And we're still designing fantastic jewelry with these metals because of their' incredible ductility, malleability, and brightness. Silver is the ideal metal for creating admiring jewelry pieces because of its exquisite luster and adaptability.
Because pure silver is brittle and delicate, trace elements are combined to create a durable metal alloy that is ideal for creating spectacular jewelry designs. Sterling silver is ideal for making dazzling and impressive jewelry items.
When silver is exposed to air, it tarnishes, turning black and peeling off in flakes. Silver jewelry must be properly cared for to indefinitely maintain its luster, grace, and beauty.
Here are some quick and easy ways to keep your silver jewelry looking new for a long time:
1. Sterling Silver
Sterling silver comprises 92.5 percent pure silver and 7.5 percent copper. Copper increases the endurance, hardness, and luster of silver alloys by increasing the strength of the silver medal. That is why one should always purchase sterling silver jewelry with proven life and brightness.
It is important to check hallmark standard 925, .925, or STERLING on silver jewelry for its authenticity.
2. Protection From Chemicals
Sterling silver is a versatile metal that may build great jewelry. When it comes to looking great on special occasions, semiprecious stone jewelry is fantastic, and the silver jewelry is enhanced by beautiful and bright stonework.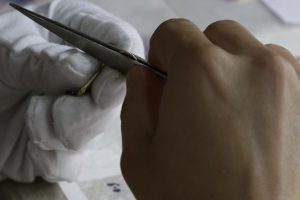 And everyone wants to keep this incredible collection for the rest of their lives. It's critical to keep your precious stone jewelry away from fading, and it is possible to extend the life of jewelry by keeping it away from cosmetics, perfumes, and bleaches.
3. Protection From Humidity, Heat, and Sweat
Handmade silver jewelry from Jaipur, India, is unrivaled in the world for design and splendor, and you may find magnificent silver jewelry designs that will impress everyone. Salty water, air, moisture, and heat can all degrade the appearance of sterling silver jewelry. As a result, when working in the kitchen, sweating at the gym, or using strong shampoos or soaps, removing or covering jewelry is preferable.
4. Cleaning and Polishing
Silver jewelry may be effectively protected from tarnish and oxidation by storing it in airtight bags. Aside from that, cleaning the jewelry can help it retain its luster. Silver jewelry cleanser is widely accessible from silver jewelry wholesalers and can also be purchased online. It retains its brilliance after a moderate cleaning with a cleanser. After washing it with mild soap, you can use polish to remove tarnish from its surface.
You may also get a silver jewelry cleaning and polishing kit to keep your sterling silver jewelry gleaming.