Being a person who has a great respect for jewelry of all kinds, I have always been fascinated by the finest artistry displayed in the elaborate patterns of Indian silver rings. Indian silver jewelry adds a sophisticated touch to any jewelry collection since it combines traditional and modern aspects. In the speech that follows, I'll be sharing with you some expert styling advice that will help you use Indian silver jewelry to augment your visual appeal, speaking of visually striking Silver Star Jewels has prominent diverse jewelry collections to try on with their wholesale silver rainbow moonstone bracelets collection its a glam for those who always lookout for something unique.
Indian Silver Jewelry: An Overview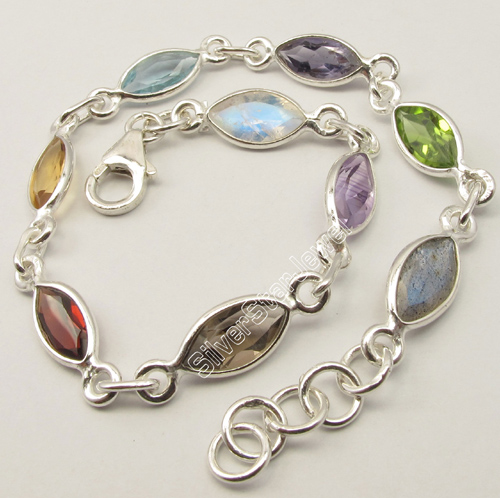 An extensive historical tradition that dates back to the ancient Indus Valley Civilization is attributed to the Indian silver jewelry industry. Being known for its exquisite designs and superb craftsmanship, it has been an essential part of Indian culture for generations. The stunning and distinctive pieces of Indian silver jewelry are produced with great skill by highly experienced artisans using traditional techniques. A collection distinguished by its uniqueness and personality is produced by the designs, which are inspired by natural elements, mythology, and Indian culture.
Why Indian Silver Jewelry is a Must-Have for Your Collection
The beautiful beauty and astonishing versatility of Indian silver jewelry make it an excellent choice for a wide range of outfit complements. Indian silver jewelry is a perfect match for people who are getting ready for a formal event or who want to dress up their everyday outfits. Indian silver jewelry is incomparable to other types due to its fine craftsmanship and close attention to small details, making it a valuable addition to the collection of any discriminating jewelry enthusiast.
Choosing the Right Indian Silver Jewelry
Considering one's unique style and how the items would complement one's current wardrobe are crucial considerations when choosing Indian silver jewelry. Considering the particular occasion for which the jewelry will be worn is essential. Get a simple silver necklace or a set of earrings if you're looking for a multipurpose piece of jewelry that you may wear every day. Wearing a silver choker necklace or a pair of silver jhumkas as a stunning accessory can make a powerful visual statement when choosing clothing for a noteworthy occasion.
Choose jewelry made by skilled craftspeople using age-old techniques if you're looking to buy Indian silver jewelry. Following these guidelines will ensure that you receive a high-quality product that is both long-lasting and resilient.
Styling Tips for Indian Silver Jewelry
Any ensemble can be enhanced with the classic and gorgeous Indian silver jewelry. The following professional styling advice should be taken into consideration to make the most of your Indian silver jewelry:
Combination is key:
Indian silver jewelry comes in a variety of styles.
Amazingly adaptable, Indian silver jewelry may be styled in a multitude of ways to fit different tastes and events. To help you make the most of your Indian silver jewelry, consider the following stylistic suggestions:
It is possible to create a stylish and unique look by combining different-length Indian silver necklaces.
Mix and match different Indian silver jewelry items to create a look that truly represents your own taste. This will help you to create a distinctive and individualized aesthetic.
Using Opposite Colors:
An eye-catching and dramatic look can be produced by deftly blending Indian silver jewelry with vivid and contrasting shades.
If you pair a classic outfit with a simple Indian silver necklace or bracelet, you can easily achieve an understated look.
Matching Indian Silver Jewelry to Different Outfit Choices
The adaptability of Indian silver jewelry allows it to go well with many different outfit styles. A few ideas for elegantly matching Indian silver jewelry to different ensembles are provided below:
Traditional Indian Clothing: Indian silver jewelry looks great with sarees, salwar kameez, and lehengas, among other traditional Indian clothing pieces. Think of accessorizing a salwar kameez with a pair of silver jhumkas or matching a bold silver necklace with a plain saree to elevate your look.
Western Clothing: Indian silver jewelry can also be worn gracefully with Western clothing. Think about wearing a simple silver necklace with jeans and a white T-shirt to create a chic look. On the other hand, a silver cuff bracelet can add a more elegant touch to a little black dress.
Indian silver jewelry brings a lovely balance to the bohemian style. You could also accessorize your look by wearing a pair of silver hoop earrings to go with a bohemian-inspired dress or a statement silver necklace with a long maxi dress.
Indian Silver Jewelry Trends for the Season
Seasonal differences affect the fashion of Indian silver jewelry. A few significant Indian silver jewelry trends to watch this season are listed below:
For this season, statement necklaces are becoming a very popular style. Seeking for elaborately designed and intricately detailed Indian silver necklaces is requested.
Resurfacing as a major fashion trend is choker necklaces. I would like you to look for choker necklaces made of Indian silver that have unique patterns and detailed decorations.
Hoop Earrings: Hoop earrings are a classic style that is in constant demand. Seeking for unique designs and detailed detailing in Indian silver hoop earrings is really important.
Indian Silver Jewelry for Special Occasions
For a number of important occasions, such as weddings, festivals, and other happy gatherings, Indian silver jewelry is a great choice. These beautiful Indian silver jewelry items are perfectly appropriate for special events and are showcased below:
Traditionally worn on the forehead, the maang tikka is a classy piece of Indian jewelry. For weddings and other formal events, this location is perfect.
When it comes to traditional Indian clothing, jhumkas, or traditional Indian earrings, are the perfect accessory.
Indian jewelry is known for its classic and refined silver bangle bracelets, which are known to add a radiant touch to any ensemble.
You can check the guide on the immaculate Silver Indian Jewelry for everyone.
Conclusion
The assortment of jewelry for the discriminating individual must include Indian silver jewelry. The product is incredibly versatile and appropriate for a variety of situations thanks to its unique blend of classic and modern characteristics. If you follow these expert styling tips, you will be able to attract attention with the stunning charm of Indian silver jewelry and take your own jewelry collection to new and higher levels.
What would you like me to ask you right now? Step inside the world of Indian silver jewelry and discover a beautiful selection of pieces that will perfectly complement your individual style.