The craze for handmade silver jewellery is rising, with women choosing curated gemstone jewellery designs over simple ones. Now that the festive season has begun, you can expect jewellery lovers to visit fashion stores to buy their favourite pendants, rings, and bracelets. We insist on buying Blue Topaz jewellery this season. It will make you stand apart from those who rely on simple gold or diamond jewellery pieces.
Blue Topaz alleviates stress and brings calm and luck to the wearer. It is also related to communication, wisdom, and success. That's why people around the world adore this healing crystal. It also helps retail jewellery buyers deck their shops with a fine range of wholesale silver jewellery gleaming in the beauty of Blue Topaz.
Let's know how you can add style to your festive outfits with the Blue Topaz jewellery range.
Blue Topaz Earrings
We are talking about styling yourself, so you need affordable yet elegant accessories. How about buying a pair of Blue Topaz earrings? It can go well with most outfits and make you look stunning. Even if you want to skip wearing a neckpiece, it's perfectly fine. Your shining silver gemstone earrings are going to do all the talking. Make sure you buy them from a reliable silver jewellery supplier.
Blue Topaz Pendants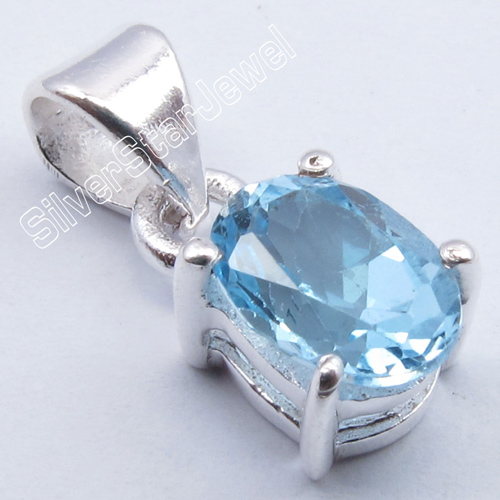 Women love pendants, and that's no secret. A shining pendant remains close to a woman's heart. And if it's a Blue Topaz one, it becomes a priceless possession. During festivals, one needs to look their best and walk miles to find the perfect jewellery. Fret not! You can shop for quality Blue Topaz pendants at our store without breaking the bank. We are known for making designer handmade silver jewellery.
Blue Topaz Bracelets
Some like to go over the top by wearing loads of jewellery, while others want to keep it simple by choosing a bracelet. If you're going with the bracelet option, make sure it suffices your fashion requirement. What better than a Blue Topaz bracelet enhancing your festive look?
Blue Topaz Necklaces
Okay, we understand your love for necklaces. You want to find the best deals online on your favourite silver gemstone necklaces. At our store, you can find what you want at affordable prices. The festive season gives you all the reasons to buy a Blue Topaz necklace in your preferred design. So, it's better to make haste and make space for a new addition to your jewellery box.
Why do we insist on choosing Blue Topaz silver jewellery? It's affordable and easy to find. Besides, you should make a sparkling choice by picking unique jewellery designs, and it's time to complete your festive look.
At Silver Star Jewel, we cater to the needs of jewellery buyers who need quality silver gemstone jewellery. Besides exploring the Blue Topaz collection, you can find silver jewellery in Emerald, Citrine, Amethyst, Black Onyx, Labradorite, Peridot, Malachite, Lapis Lazuli, Rainbow Moonstone, Garnet, etc. We also keep a ready stock of silver anklets, cufflinks, brooches, toe-rings, and chains.