Silver has been regarded as a high-end item for many years now. The phrase "silver spoon" has long been used to denote riches. Jewelry from Silver Star Jewel's silver collection evokes the opulence and sophistication of finery.
Silver jewelry possesses a timeless and sophisticated aura of its own. Silver is a popular color since it's easy to wear and goes with almost anything. Whether a newborn or an adult, silver jewelry will always exude elegance.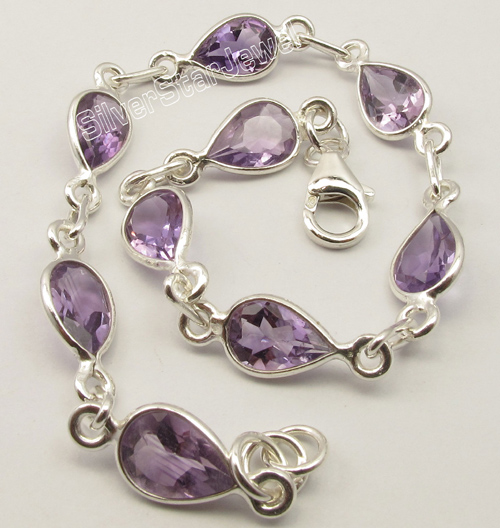 It Is Everything That Meets Your Specific Needs and Wants
Modern jewelry designers like silver because it combines beauty and durability. Silver Star Jewel offers daily and unique items in Sterling Silver Jewellery Wholesale. Silver Star Jewel jewelry ages nicely. You can develop an everlasting jewelry collection from traditional to futuristic unisex types. Silver bracelets amaze with their brilliant luster and affordable prices.
They are generally free-form designs with graceful curves and polished skin in the shape of bracelets by Silver Star Jewel, one of the best 925 Silver Jewellery Exporter.
It's just great! For the ones, you care about. Wearers will feel like they're one of a kind thanks to the best-selling styles at the lowest price.
For Jewelry, Why Is Sterling Silver So Good?
When it comes to jewelry, why is sterling silver the best option? What makes it so appealing to jewelers and designers are some of the following attributes.
Incredibly Durable and Light In Weight
With the additional metals in sterling silver, it is a substance even more durable than gold. Additionally, this attribute makes it an excellent choice for frequently worn jewelry. As you can see from the examples below, sterling silver is quite durable for bracelets.
If your bracelet is bent or damaged, the appeal is quickly lost. Fortunately, sterling silver bracelets are strong enough to wear all day without fear of bending or scratching.
It Can Be Altered To Suit Your Preferences
Affordability and ease of fabrication make sterling silver an ideal metal for jewelry and design among the 925 Silver Jewellery Exporters. Whether you're looking for a large statement piece or something more delicate and on-trend, sterling silver is likely to have something to fit your taste.
Not all sterling silver jewelry is subject to tarnish, even though it's created from precious metal. Anti-tarnishing compounds can be easily applied to sterling silver, giving it an added defense against damage to your bracelet.
A gorgeous high-gloss finish is achieved by polishing or rhodining sterling silver, making it tarnish-resistant. It takes more effort to resize or work on objects that have been rhodium-finished, but you don't have to worry about the extra coat deteriorating.
Plated sterling silver with pure silver helps the piece avoid tarnishing and gives it a brighter appearance, which some jewelers provide as an option.
Your One-Stop Shop For All Things Silver Jewelry Should Be Silver Star Jewel
This is the finest location to buy high-quality jewelry for a bargain price. Silver jewelry is a present outstanding option that is both affordable and high-quality. You can peruse the Silver Star Jewel bracelets online and admire their timeless elegance.
Silver bracelets look beautiful on men and women of all ages and income levels. Luxurious and sophisticated at the same time. To match any outfit, wear one of these Silver Star Jewel bracelets from their Sterling Silver Jewellery Wholesale offers.